Grates and Log Rings
Grates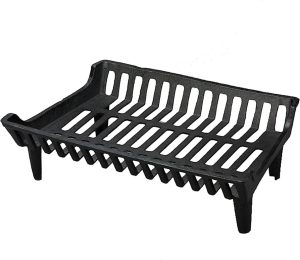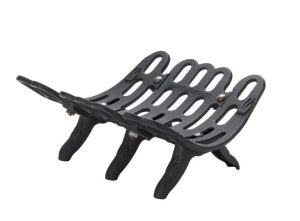 We carry the Sampson Series cast iron grates from the Lincoln Foundry. The pre-fab, G500 series and G800 series can be found right on our showroom floor. The G500 is the self-feeding grate and the G800 is the flat bottom grate.  These heavy duty grates offer good airflow ensuring excellent combustion, and the tight casting design holds burning logs and bed of hot coals until they are consumed and rendered to ash.
Self-Feeding
The high front and low back profile of the G500 series allows wood to self-feed to the rear of the fireplace where the natural draft is.
Safety
This is a by-product of the self-feeding feature. A higher front edge minimizes the possibility of a burning log rolling off the grate into the living area.

Log Hoops
Our log hoops are a solid grade steel material in a bar-stock design. We carry them in three sizes: 24", 36" and 48".
Outdoor Log Racks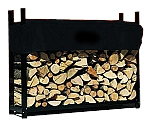 Woodhaven wood racks are designed with simplicity, produced with quality, have the look and strength of a traditional firewood rack and are made in the USA. Their wood racks include a standard reinforced vinyl cover that fits over rack posts and slides down as wood is used. The stack of firewood is protected from rain and snow while allowing cross ventilation. We stock ¼ cords, ¼ plus cords and ½ cords with the ability to order other sizes.