Gas Grills
Broilmaster Premium Gas Grills
Broilmaster Premium Gas Grills were introduced to the states in 1966. The original G-1000 – though smaller than the grills we make today – featured the now-legendary bowtie burner fitted into a heavy-duty cast head with the trademarked rib pattern on the lid.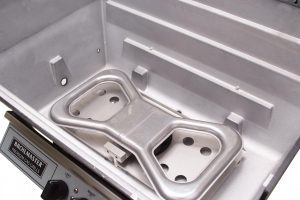 Broilmaster's unique grill head features a deep bottom casting that allows more uniform temperature across the cooking grid. To demonstrate its ability to heat evenly, Broilmaster Sales Representatives would place five slices of bread on the grill (at the center and corners), wait 30 seconds, and remove the slices to reveal perfectly uniform toast – no hot spots and no dead spots. Broilmaster's patented stainless steel Bowtie Burner found in their P3 and P4 Series is what allows that to take place (pictured to the left). At first, Broilmaster grills were sold exclusively as natural gas. Propane models were then added as 20-lb. LP tanks and became widely available for home use.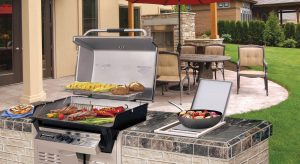 Today, Broilmaster offers models with multi-level cooking grids, separate burner controls, stainless steel griddles, and the company's exclusive Smoker Shutter – which doubles the grill's versatility by allowing backyard chefs to slow roast and smoke game, vegetables, poultry, and other large cuts.
Early Broilmaster owners helped spread the word about the grill's exceptional performance durability, backed by the legendary support provided by dealers and the factory. Many owners hold onto their grills for 20 years or more and some have been cooking on their Broilmasters for 30 to 40 years.
While other grill brands have come and gone – and many have gone overseas – Broilmaster soldiers on as one of the few gas grills still made in the USA. The brand is now owned by Empire Comfort Systems, which produces Broilmaster Premium Gas Grills in its plant in Belleville, Illinois.