Gas Stoves
Direct Vent Stoves
Heating your entire home with a central forced air system wastes valuable energy and is often inefficient. An environmentally friendly and cost effective heat source alternative. Valor free standing fireplaces provide steady, radiant warmth directly where you want it and when you want it.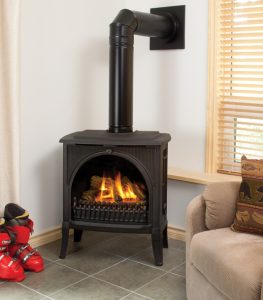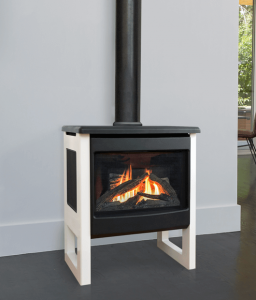 Features of Madrona Freestanding Stove
ValorStat Plus hand-held remote with light/shut off pilot feature and adjustable flame level for steady, even warmth
Impressive low turndown – 6,500 BTU's
No power, no problem – fully functional heater that doesn't require electricity or a fan
6 Hour Energy Saving Feature – Fire will turn down (to pilot light) automatically if there is no adjustment in flame height after six hours
5 Day Shutdown – After five consecutive days without flame adjustment (on pilot light), the fireplace will shut down automatically – saving energy and reducing operational costs
Safety Barrier Screen (clip-on)
Vent Free Stoves
Enjoy the beauty of a traditional gas stove anywhere in your home with vent-free stoves from Empire Comfort Systems. Crafted in traditional cast iron, vent free stoves are a simple and safe heating solution that is an ideal addition to any room. Easy to install – with no need for venting or a mantle – our vent free stoves are available in two model sizes and multiple finishes.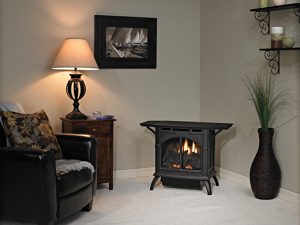 Standard Features for All Units
Millivolt with on/off switch and variable flame height control
Flexible connector with On/Off valve included
No venting required for ease of installation
Consumer friendly deluxe control panel
Fixed Safety Screen
Empire Vent Free Cast Iron Stoves feature a contour burner, offering yellow flames with glowing embers. With BTU's ranging from 17,500 to 25,000 this stove is perfect for warming up chilly basements, additions and any other area where a vented unit is not practical.