Contemporary Fireplaces
Direct Vent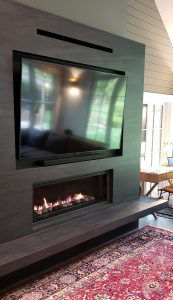 Valor fireplaces provide steady, radiant warmth directly where you want it and when you want it. Combine that radiant heat with a contemporary linear style and you have a great match for your modern décor.
Valor Linear Family Series includes L1, L1 See-Thru, L2, L3, LX2 Multi-sided and LX1 Pier
FEATURES:
Valor Plus hand-held remote with intermittent pilot and adjustable flame level for steady, even warmth
Temperature and timer controls
Included wall switch with battery compartment
Impressive low flame turn-down
Offers a variety of captivating fire-scapes (Murano Glass, Decorative Glass, Long Beach Driftwood, Splitwood Logs or Rock & Shale)
Multiple fireplace liners and surround options
Vent-Free
When a traditional fireplace would seem out of place, Loft Vent Free Inserts by Empire Comfort Systems offers contemporary burners to complement the unique décor you worked so hard to achieve.
Because it does not require a chimney or metal vent stack, where you install your vent-free Loft Series Burner is limited only by your imagination – in a wall, in an island, in a mantel, in an art installation – the possibilities are boundless. Even Fireglass and Firebead color options are endless.
The Boulevard Series by Empire is a more linear style fireplace to really accent that long living room wall, as well as, provide an extraordinary amount of heat. Available in both vent-free and direct vent.