Glass Doors
We feature fireplace Glass Enclosures manufactured in the USA by the Portland Willamette Company located in Hamilton, Montana.
Portland Willamette has maintained a "Timeless Tradition of Quality", ever since its conception in 1946. A wide range of high quality doors are offered, for both masonry and pre-fabricated fireplaces.
In most cases, your fireplace is the focal point of your room. With 18 different models and 26 different finishes to choose from, you can create the atmosphere of your choice.
A glass enclosure can pay for itself…
When burning wood the most cost-effective way is to burn with the doors closed. Most manufacturers state that you must burn with doors open. Portland Willamette, over the years, has set the standards for everyone else to follow. When you purchase a Portland Willamette glass enclosure, be assured you may burn with the doors closed while maintaining a 6″ air wash between the flame and glass panels. Direct flame impingement could cause glass breakage. Portland Willamette builds their enclosures so well; they even offer a lifetime warranty on the glass panels.
The Advantages of Using a Glass Enclosure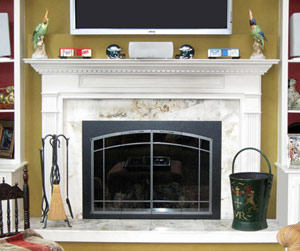 When a wood burning fireplace is being used the fireplace damper must be open, this is where the inefficiencies lie. The average fireplace opening of 36″ wide by 30″ high using a 9″ x 13' flue, while burning a fire within, will pull approximately 250 cubic feet of air per minute from your home which exits up and out the fireplace flue.
The main advantage of burning with the doors closed is that it minimizes the warm air loss from your home that you are paying to produce through your central heating system. You also minimize the loss of heat that's being produced by the fireplace itself. The amount air you allow to enter the firebox, which feeds combustion, is regulated by a draft control that is built into the frame of most models.
You have the option of burning with the doors open, just remember to keep the sliding mesh closed to offer yourself some protection from flying sparks.
When you are ready to retire for the evening and do not want to wait for your fire to completely die out, just close the doors. This alone will save many energy dollars and you can't put a price on safety and peace of mind this affords you … "Its Priceless".
Please download and fill out our Fireplace Measuring Guide before stopping into our showroom where you will receive professional guidance from our experienced staff.