Vented Gas Logs
Vented Gas logs are designed to operate in wood-burning fireplaces that have a minimum of an 8" flue and the damper open.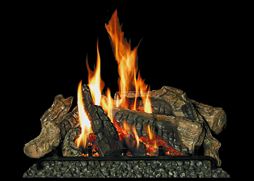 We feature the "Ultra-Fyre Fiber-Glow Vented Gas Log", manufactured by the Portland Willamette Company located in Portland, Oregon.
The greater majority of vented gas logs utilize a sand-pan burner, which has been the industry standard for more than fifty years. This system is truly outdated and a new state-of-the-art burner system needed to be developed. The Portland Willamette Company did just that by incorporating innovative new technology called the Fiber Ceramic burner into their Ultra-Fyre Fiber-Glow Vented Gas Log.
The Fiber-Glow is a high-quality fiber-ceramic log that has outstanding radiant heat qualities, a realistic mature fire and is very fuel-efficient. This design burns so hot it produces a secondary stage of combustion which prevents carbon build up, which is typical with most all other vented gas logs.
The Fiber-Glow vented gas log is a high-tech burner, which generates so much radiant heat that it is unmatched in the fireplace industry.
Please download and fill out our Fireplace Measuring Guide before stopping into our showroom where you will receive professional guidance from our experienced staff.